September 15, 2009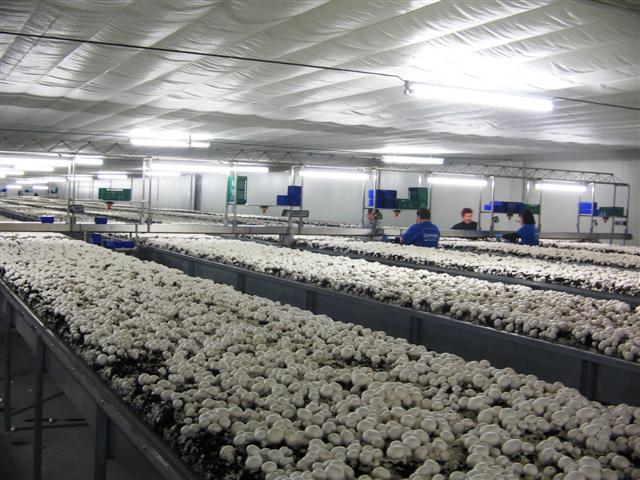 A few more mushrooms were sold in the U.S. this season, but because prices were slightly down, the value of those sales was lower. Production of the 2008/2009 U.S. mushroom crop of 817 million pounds (371 million kilograms) was up 1% from 2007/2008's 813 million pounds (370 million kilograms), according to the annual mushroom report released Aug. 20 by the U.S. Department of Agriculture's National Agricultural Statistics Service. But because the price-per-pound of $1.17 was a penny lower than last season, the total value of the crop, $957 million, was about $5.5 million less than a year ago.
Despite the struggling economy, it appears demand for mushrooms remains strong, especially fresh product at retail. The sale of fresh mushrooms held steady from last year, along with prices. That more than made up for a dip in the value of processed, which was hurt by lower pricing.
No growth in processed mushrooms The only place there wasn't growth was processed," said Laura Phelps, president of the American Mushroom Institute, Washington D.C. "The demand's just not there. But it's an amazingly strong and positive report that showed sales are very stable, even in a down economy." Sales of agaricus (white button) mushrooms totaled 802 million pounds (365 million kilograms), up slightly from last season, but 2% below 2006-07. Pennsylvania accounted for 65% of volume, while California contributed 15%. The total value of the agaricus crop, $909 million, was down 1% from last season. Brown mushrooms — portabella and crimini — showed strong gains.
Specialty mushrooms But the biggest percentage growth in the U.S. industry was in the specialty category, mainly shiitake, oyster and other exotics, which increased in value 6% from 2007-08 because of higher prices. Volume of shiitakes was down 3%, but the price, $3.19, was up 50 cents from last year. Oyster production was up 19%, but lower prices also brought about lower crop value. Production of certified organic mushrooms, at 41 million pounds, was up 3% from last season. However, only 29% of that volume was actually sold as certified organic mushrooms, according to the USDA report. Phelps said the positive report was a testament to the hard work of the industry. "Credit goes to the Mushroom Council for really stressing the value and health benefits of mushrooms," she said.