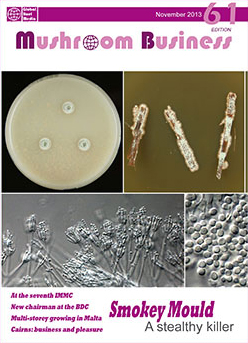 Smokey Mould: the smoke screen lifts.
At the 7th IMMC in Beijing.
The Polish industry is still growing (Piecarkalia 2013).
Amycel conferences in Poland.
ISMS News 12.
Sanctioned (developments in Iran).
New chairman at the BDC (BDC Jahrestagung).
A tower of mushrooms (Multi-storey growing in Malta).
My Farm: Gospodarstwo Rolne Halina Komar (PL).
Business and pleasure in Cairns (40th AMGA).
Out and about: A cool garden (Wilke Champignons in Kessel, NL).