23 maja, 2013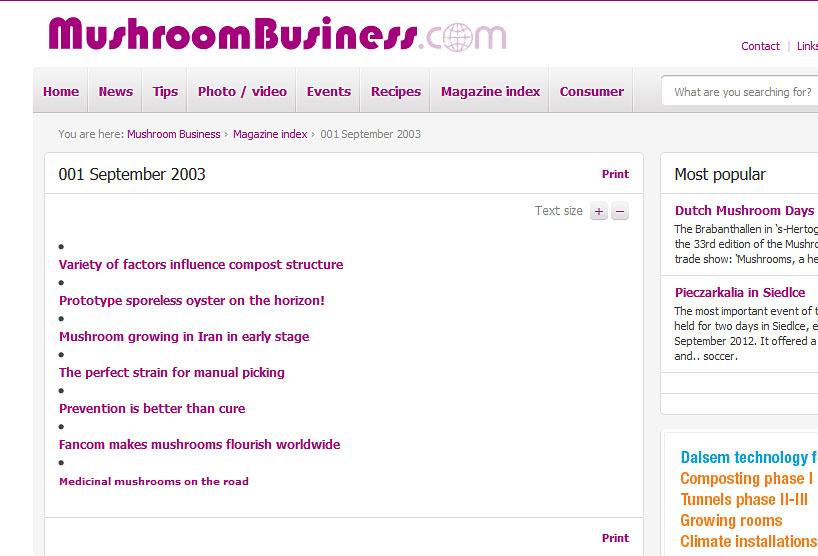 On May 17th, Global Roel Media B.V. launched the free Mushroom Business Magazine App in the Apple App Store.

Nearly ten years since the launch of the market leading international magazine for the mushroom industry in print, we take the next step in mushroom publishing with our own free Mushroom Business App, in which you can access the latest edition, the website, and more.
Unique free issue no. 58
For the time being, the App is available for iPad only (not for iPhone, or Android platforms). So if you own an Apple tablet, download the App in the App Store (search for 'Mushroom Business Magazine'), and download Mushroom Business no. 58 – the Mushroom Days Special edition – for free.
If you didn't know the magazine, it's a good way to get acquainted with it. If you did, it's nice to get familiar with the digital format. And if you bring your tablet to the Mushroom Days in Den Bosch next week, you have the fair plan, the exhibitors, the programme and the extensive preview right at your fingertips.
You are welcome in stand 2
Visit us in stand 2, right at the entrance to the fairgrounds, to hear about our new advertising and subscribing possibilities regarding our digital products. Or just to have a chat.
See you there,
Roel Dreve