May 21, 2013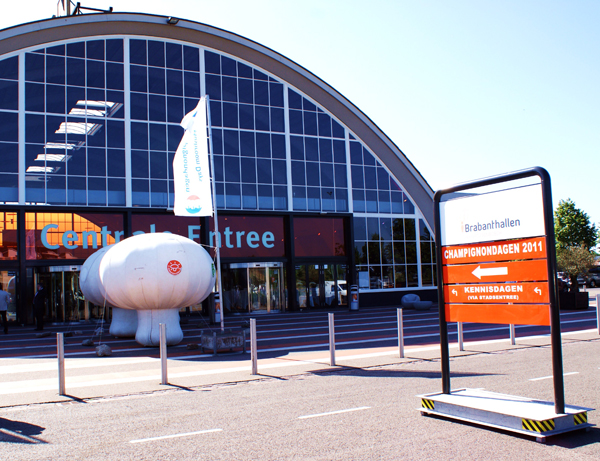 The 33rd edition of the Mushroom Days are ready for takeoff. The biggest trade fair in the worldwide mushroom industry will be held from 29 to 31 May 2013 at the Brabanthallen, Den Bosch, The Netherlands.
Visitors and exhibitors from all the important mushroom producing countries will be present at the Mushroom Days. You will be able to meet the entire industry in just three days under one roof! This event will be broadly covered by our international trade publications.
Participants and visitors
During the Mushroom Days, 82 participating suppliers to the industry will present their companies, 58 from The Netherlands and 24 from different countries around the world. This edition, companies from China, the United States and South-Korea will have a stand at the fair as well. In Mushroom Business no. 58 (april 2013), an extensive preview of the participating companies and their latest innovations is featured. This issue can be downloaded in the Apple App Store for free ('Mushroom Business Magazine').
Online registration is still possible. Visitors can pre-register for free entrance to the trade fair (tickets at entrance: 50 euro). Use the boxbanner on our www.mushroombusiness.com homepage for easy access. Visitors from 65 countries have already registered at this moment (21 May), more are coming in every day. Noteworthy is the huge delegation from China this year (60 visitors). According to the China Chamber of Commerce, this reflects the rapidly growing interest from this country in the cultivation of Agaricus.
Welcome Event
On Wednesday 29th of May, a Welcome Event will be organized at the fair. All exhibitors, visitors and their partners are welcome to attend an inspiring evening (for free). Guest speaker Mr. Leo van Griensven will give a presentation titled 'Mushrooms, a healthy business'. There's a buffet with live music, and for the first time, The Ambassador of the Mushroom Industry Award will be presented. More info here (http://www.mushroombusiness.com/content/news/detail/485/ambassador-of-the-industry). You're welcome from 17.00 to 21.00 in the Brabanthal.
Meeting Point
On Thursday May 30th, from 21:00, a Meeting Point Mushroom Days will be organised in Grand Café Silva Ducis in the center of Den Bosch. All participants and visitors are welcome in this cozy grand café: http://www.silva-ducis.com/
Mushroom Business
The team of Global Roel Media B.V., publisher of Mushroom Business and other publications for the worldwide mushroom industry, is present in Den Bosch. You are very welcome to visit us in stand 2, just at the entrance to the fairgrounds. See you at the Mushroom Days!
If you have any questions regarding the fair, feel free to contact the organisation at info@champignondagen.nl.