March 22, 2011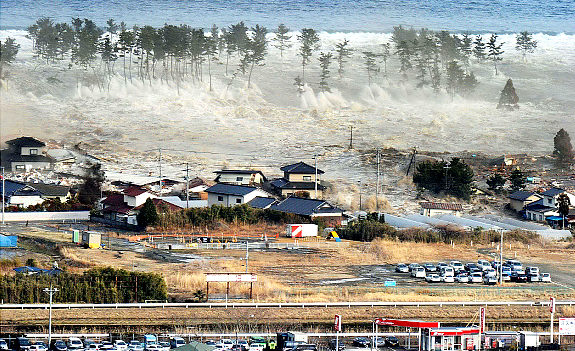 On Friday, 11 March 2011, Japan was hit by a 9.0 magnitude earthquake off the coast, followed by a severely destructive tsunami. The enormous disaster has caused damage to Japan's mushroom industry as well.
The multiple earthquakes and the following tsunami waves of up to 14 meters took a heavy toll on Japan's Pacific coast, especially near Sendai. Thousands of people died, were injured or went missing across eighteen prefectures, and the unprecedented disaster caused extensive structural damage to the country, notably to the Fukushima nuclear power plant.
The quake, tsunami and radioactive contamination caused problems to the mushroom industry in multiple ways.
Firstly, mushroom growers and spawn making companies in northeastern Japan suffered damage by the earthquake and perpetual aftershocks. According to Dr. Katsuji Yamanaka of the Kyoto Mycological Institute and President of the Japanese Society of Mushroom Science and Biotechnology, whom we spoke to on March 22nd, the damage was especially severe in Miyagi, Iwate, Fukushima and Ibaragi prefectures. "Kinox received heavy damage in their facilities but they didn't suffer injuries. Mr. Kimura said that the important stock cultures and mother spawns were secured from the quake by self-generators, and the company can revive soon."
In mushroom farms of northeastern Japan, many growers suffered damage, mainly from falling shelves for mushroom growing and stacks of bottles in incubation rooms. Now they are working hard from morning to night for recover of the production. "We had another big quake (6.5) in northern Nagano just after the big disaster in northeastern Japan. There are many growers of Bunashimeji in Iiyama district, northern Nagano and Maitake or Enoki growers in southwestern Niigata. Especially, facilities of Bunashimeji growers in northern Nagano were hit hard. They are small scale growers and early recovery may be difficult. Nakano City didn't suffer severe damage although many bottles fell in in many farms." Ichimasa Kamaboko in Niigata, visited by the HLP study group last year, was safe except for falling of culture bags."
A second effect of the disaster was caused by power cuts in a wide area, including northern and central Japan. Yamanaka: "Growers can't plan their production of mushrooms for power failure of two times a day caused by the trouble with the nuclear power plants. Although the power cuts are announced, the time in between is too short for mixing, filling, autoclaving and inoculation. Because of this, production will decrease untill power-supply is completely recovered.
Thirdly, the effects of radioactivity contamination to farm products is being felt. Already, spinach produced in Ibaragi Prefecture was contaminated by radiation and shipments have been rejected. Dr. Yamanaka fears that mushrooms produced in northeastern Japan will be contaminated/rejected in the near future. Although bottle and bag cultivation of mushrooms takes place indoors, contaminated air can flow into the facility by air ventilation. "Shiitake cultivation growing on logs is very seriously threatened because these mushrooms will gather radioactive air or dust. I am most afraid rumors of contamination, however low, can damage mushroom sales in the affected areas."
The Japanese Society of Mushroom Science and Biotechnology proposes technical consultation for recovery of mushroom production to growers and other companies affected by the disaster. "We will overcome this difficulty and then recover soon!", says its President.