February 6, 2010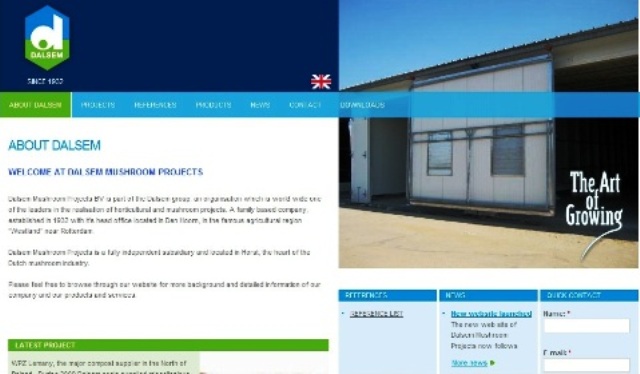 On January 1st, 2010, Reed Business officially transferred the mushroom publications to the ownership of Global Roel Media (GRM). Paddestoelen, Mushroom Business and Mushroom Business Polskie Wydanie, as well as the digital editions of the mushroom cluster, will continue to appear under the same names.
Reed Business has published trade journals for the mushroom sector since 2001. Roel Dreve has filled the position of editor-in-chief since the beginning. Over the years the original publication has been joined by an international and Polish print title, the website www.mushroombusiness.com and an international e-newsletter.
Reed's altered publishing strategy, coupled with the ambition of Roel Dreve to publish the titles in his own right, prompted both parties to decide to transfer the ownership of the mushroom titles as from 1 January 2010. A contract of sale to this effect was signed on 10 December in Amsterdam by Roel Dreve, owner and director of the new publishing concern GRM, and Eddy Reuling, Managing Director of Reed Business Nederland.
Continuation first priority
The first priority of GRM, located in Voorburg, will be to focus on the continuity of the successful mushroom publications. The range of titles and the publication frequency will remain unchanged in 2010. However, the design of the journals will be revamped in early 2010. Many external parties will also continue to contribute to the journals, for example the authors, translators, ITC company Exed and graphic design agency Diseno, and last but not least John Peeters, whose contract at Reed has been transferred to GRM.
You, our readers and advertisers, will probably not notice any changes to start with. The good news is that this takeover signifies the continued publication of the mushroom titles. Their leading position in the international mushroom sector can be expanded on, whereas their position had become uncertain under the wings of Reed Business. Roel Dreve has the fullest confidence in a quick restart, healthy operation and in the plans for his new publishing company.
Subscriptions
The term of the current subscriptions (including combi-subscriptions to Groenten & Fruit) will continue to run. From January 1 subscribers will be invoiced on behalf of GRM by Abonnementenland. From today, please contact Abonnementenland to take out a subscription and for any questions about subscriptions:
Abonnementenland
Postbus 20
1910 AA Uitgeest
The Netherlands
Tel: 0900-ABOLAND or 0900-2265263 (0.10 cent per min.)
For international callers: + 31 (0) 251-257926
Fax: 0251-310405
Site: www.bladenbox.nl to subscribe or www.aboland.nl for new addresses and to unsubscribe.
Publication dates 2010:
PAD 1 / MB 39 – 24 February 2010
PAD 2 / MB 40 / POL 13 – 28 April 2010
PAD 3 / MB 41 / POL 14 – 30 June 2010
PAD 4 / MB 42 – 8 September 2010
PAD 5 / MB 43 / POL 15 – 27 October 2010
PAD 6 / MB 44 / POL 16 – 15 December 2010
Contact details:
Global Roel Media
Roel Dreve (Publisher/Editor-in-chief)
Looierslaan 107
2272 BJ Voorburg
The Netherlands
tel: 06-23617575
Freelance editor:
John Peeters
Tel. 06-43870446
Website:
Please no longer use the following email addresses: roel.dreve@reedbusiness.nl and john.peeters@reedbusiness.nl .