February 22, 2012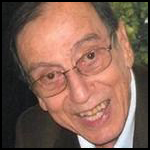 With great sadness and profound regret, the Giorgi family announces that Frederick J. Giorgi, 81, of Muhlenberg Township died on February 18, 2012 of natural causes at St. Joseph Medical Center, where he had been a patient since January.
Born December 3, 1930, Fred was a son of the late Pietro and Elvira Giorgi, natives of Ascoli Piceno, Italy. He received a Doctor degree from Dickinson School of Law in 1955. In 1999, he received the Honorary Degree of Doctor of Laws from the Dickinson School of Law.
Fred served in the US Navy in 1956-1957, and entered into the public practice of law in 1958 as a founding partner in a law firm in Reading, Pennsylvania. He also entered family business in 1958, where he worked part-time, simultaneously with the practice of law.
In 1975, Fred phased out public law practice to devote his full time and attention to the family business, Giorgio Foods, Inc. and its related companies. Until his passing, he was Chairman of F&P Holding Company with subsidiaries Giorgio Foods, Inc., Giorgi Mushroom Co., Can Corporation of America, Maidencreek Plaza Co., and other companies in the USA, and Can Pack S.A., with operations in Poland, the UK, Russia, Ukraine, India, UAE, Spain, France, Morocco, Romania, the Czech Republic, Slovakia, Turkey, and Brazil.
Fred's many personal and professional accomplishments were recognized with a number of awards, including a Career Achievement Award (1993) from Dickinson School of Law, a 1996 Award of Merit from Penn State University Department of Mushroom Science, and a 2005 Officer's Cross of the Order of Merit by the Polish president for outstanding contribution to the development of the Polish Economy.
Fred is survived by his son and daughter-in-law, his granddaughter, his sisters, his former wife, Elaine Giorgi, and by nephews, nieces and cousins in the US, Canada, Australia, and Italy. Besides his parents, he was predeceased by his brothers, Mario and Raymond, and his sister, Joanna Quaglia.
Fred's wisdom and energy were legendary and instilled in his employees the desire and will to achieve well beyond expectations. Fred so highly regarded his employees that he never missed an opportunity to let them know they were his stars and rewarded them with legendary company trips all over the world. He will be greatly missed not only by his family, but by friends and colleagues on every continent whose lives he touched with loyalty, compassion and humor, as well as by the many organizations who sought and received his quiet but always willing help over many years.
Funeral services will be private and held at the convenience of the family, with memorial services to be announced. Online condolences may be recorded at www.kuhnfuneralhome.com.
From the obituary by Dave Carroll, President of Giorgi Mushroom Co., Giorgio Fresh Co.