July 10, 2023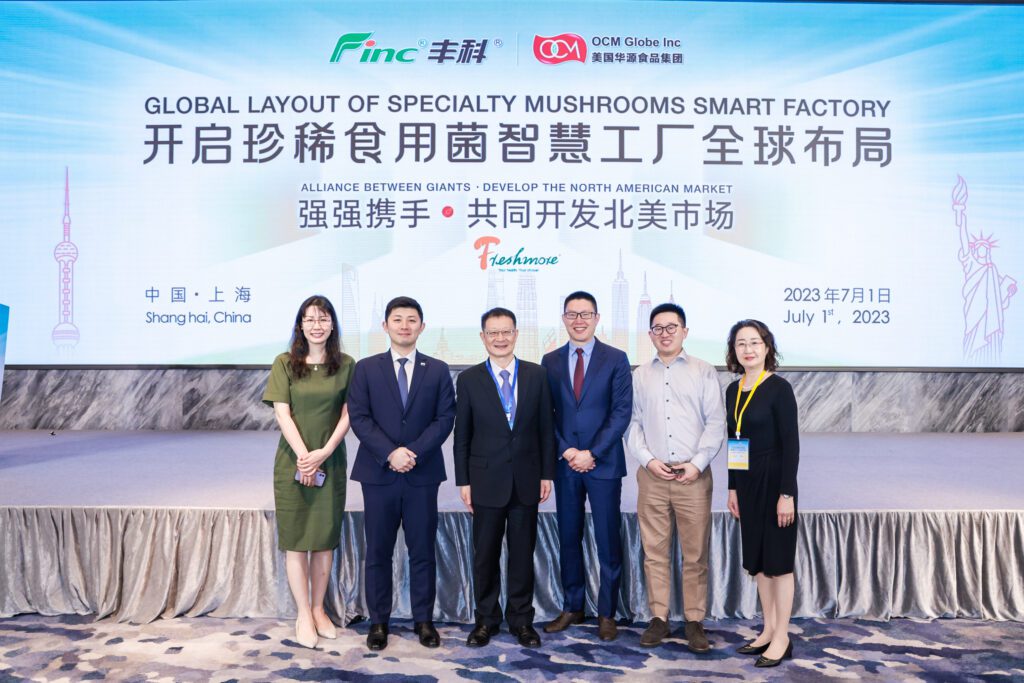 On July 1st 2023, Shanghai Finc Biotech Co. Ltd announced its subsidiary Finc (Singapore) Bio-tech and OCM Globe Inc jointly invest 60 million US dollar to build a modern and smart growing facility, Finc (America) Biotech, in Houston, Texas.
As the mother company, Shanghai Finc Biotech is the largest Shimeji mushroom producer with a production capacity of 260 tons per day in China. OCM Globe Inc., headquartered in Los Angeles, is the leading Chinese brand operator in Asian food markets through different distribution systems in North America.
The cooperation agreement signing ceremony was held in JW Marriott Shanghai Fengxian on July 1, 2023. There were around 60 representatives from governments, associations, media and business partners present. Dr. Tan Qi, Chairman of WSMBMP, delivered an opening presentation on the outlook of the specialty mushrooms (enoki and shimeji) market. Ms. Zhang Wenhong, CEO of Shanghai Finc Biotech and Mr. Wang Gang, President of OCM Globe Inc. reviewed their own strengths and advantages to assure a good start of the cooperation.
Mr. Wang Nan, the managing director of Finc (America) Biotech, stated the new state-of-the-art facility will supply 50 tons enoki mushroom per day within the bottle system in 2024. It will be the first commercial enoki mushroom growing farm in the US, offering 100 job opportunities, and changing the situation that the US had to import enoki mushroom from Asian countries in the past.
Mr. Cao Derong, President of CFNA, and Mr. Ted Shibita, Deputy Director of the Agricultural Trade Office at the US Consulate General in Shanghai both thought highly of the mutual investment between China and the United States and congratulated the participants in this project.
In the picture (from left to right): Ms. Zhang Hongyu (Trade attache at the US Consulate General), Mr. Ted Shibata (US Consulate), Mr. Cao Derong (CFNA), Mr. Wang Gang (OCM), Mr. Wang Nan (Finc) and Ms. Zhang Wenhong (Finc).