August 19, 2009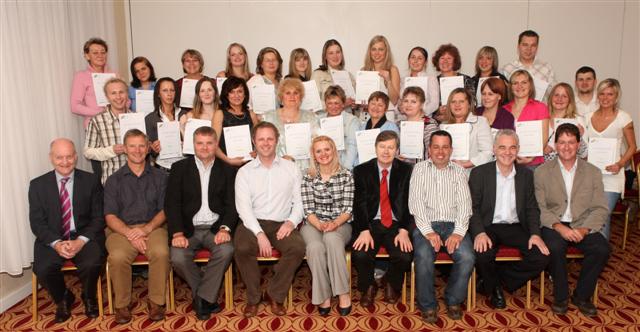 The first mushroom harvesters in Europe to complete a unique work based training programme were presented with their certificates recently. The presentation took place in Days Hotel, Castlebar, Republic of Ireland on Monday 6th July when a group of 26 harvesters were presented with FETAC Certificates.
The training programme was developed by the Teagasc Curriculum & Quality Assurance Unit in Kildalton in conjunction with CMP and the mushroom industry. Commercial Mushroom Producers are the FETAC Registered Training Provider for the programme. All new mushroom harvesters are given the opportunity to participate in the programme, where they receive a Training Manual in one of several languages – Lithuanian, Latvian, Polish and Slovakian. The aim of the programme is to develop the skills and competencies required to harvest mushrooms to the required standard and to achieve a high quality output and performance. This demonstrates the commitment of the industry to the ongoing training of its workforce.
Quality criteria
The advantages of undertaking this training for harvesters are greater hygiene and safety awareness, faster development of harvesting skills, higher quality work and higher wages. Picking rates have doubled since the introduction of the programme. For the employer, he/she will achieve more output per tonne of compost, more satisfied staff and a higher proportion of mushrooms meeting quality criteria.
All 26 harvesters who received certificates work on a mushroom farm in Belcarra just outside Castlebar run by Drimbawn Mushrooms. The farm produces over 30,000 Kgs of mushrooms per week. All mushrooms are picked for the fresh market and sold to a Producer Organisation, namely Commercial Mushroom Producers (CMP) who in turn markets the mushrooms through Monaghan Mushrooms. The final destination of the mushrooms are the UK multiples.