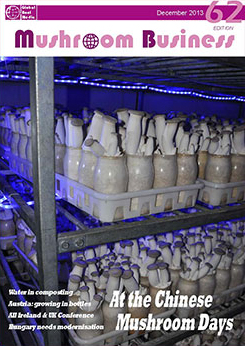 Chinese Mushroom Days focus on Agaricus.
What's in a name? (PrimeChamp Poland).
All Ireland & UK Mushroom Conference and Trade Show 2013.
ISMS News 13.
HLP meeting in Austria.
Modernisation imperative in Hungary (Bio-Fungi conference).
King Oyster, Kingsize Company (Fujian Jiatian Agricultural Development).
Not too much, not too little (water in compost).
My Farm: Szymon and Karolina Jurkiewicz (PL).