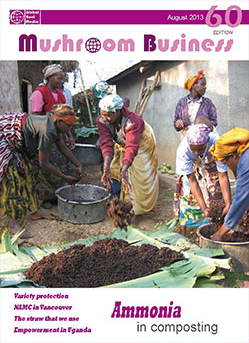 Free the spirit, unleash the mind (22nd NAMC at Vancouver, Canada).
Chelkowscy: innovative tray farm (Poland).
Empowerment through mushroom training (the MTRC in Uganda).
ISMS News 11.
All Ireland and UK Mushroom Conference and Trade Show 2013.
The straw that we use (Agaricus composting).
Influence of ammonia during composting (Agaricus composting).
Logical expansion (Teun Kampen's Shasta B.V.).
Towards a better protection of new Agaricus varieties.
My Farm: Korona Champignons (HUN).