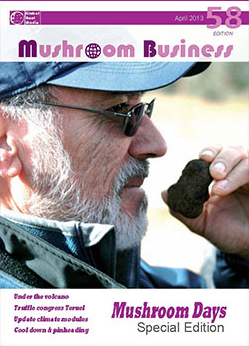 Evaluation of energy efficient climate modules.
My Farm: Bressingham Mushrooms Ltd (UK).
Paradise for black truffles in Spain (1st Internat. Congress of Trufficulture).
How many pinheads are enough?
ISMS News 9.
Floorplan, Exhibitor list & Programme of the 33rd Dutch Mushroom Days, 2013.
Preview Exhibitors Dutch Mushroom Days 2013.
Mushrooms from volcanic slopes (Etira and Jejamuran, Indonesia).